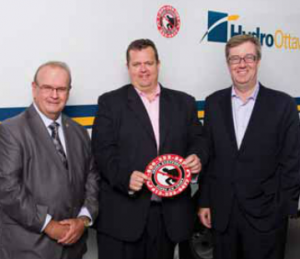 Hydro Ottawa is proud to support Crime Stoppers, a locally-run program that provides cash rewards and confidentiality to those who have anonymous information that helps the police solve crimes.
"Together we are keeping our community safe by teaming up to ensure those individuals who engage in illegal activities, including stealing electricity to power illegal grow houses, are reported," said Bryce Conrad, President and Chief Executive Officer of Hydro Ottawa. "Many grow houses tamper with electricity wiring, which can be very dangerous for the occupants of the home, the public and our employees."
Hydro Ottawa has presented the National Capital Area Crime Stoppers with a cheque for $3,040. This represents the rewards paid since 2009 for tips that have helped to shut down marijuana grow operations.
Approximately 100 Hydro Ottawa pick-up trucks and vans will also display a Crime Stoppers decal.
"In all, Crime Stoppers has helped recover over $90 million worth of stolen property and illicit drugs since the program began locally in 1985," said Wayne Bissett, Chairman of the National Capital Area Crime Stoppers. "In 2011, tips led to the arrest of 89 individuals, over 500 charges being laid and the recovery of 15 firearms."
To report a tip anonymously and earn a reward of up to $2,000, call Crime Stoppers toll free at 1-800-222-TIPS (8477). The National Capital Area Crime Stoppers is also active online at https://crimestoppers.ca, Facebook, and on Twitter @CrimeStoppersOttawa or text to CRIMES with the keyword 'tip252'.
Working with Crime Stoppers is just one way Hydro Ottawa is contributing to the well-being of our community. Hydro Ottawa is a community builder, maintaining one of the safest, most reliable electricity distribution systems in Ontario. The company is also dedicated to helping customers use electricity efficiently and teaching children and youth about electricity safety and conservation.
Source:
Nepean/Barrhaven EMC