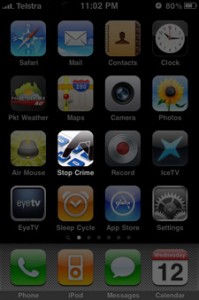 OTTAWA – January 30, 2011 – FOR IMMEDIATE RELEASE
National Capital Area Crime Stoppers is pleased to endorse the new application for the iPhone called "Tip Submit".
You can submit secure and anonymous tips to National Capital Area Crime Stoppers or any Crime Stoppers in Canada.  Tipsters could receive rewards of up to $2,000 for information submitted to National Capital Area Crime Stoppers and nobody will ever know your identity.
This new application augments the currently existing methods of phone, web, and SMS Text-a-Tip. Enjoy the convenience of communicating with law enforcement via your mobile device while having much more functionality available to you than SMS Text-a-Tip offers alone. No short code or keywords required. Auto-locate the nearest agency that you can submit to or select an agency manually. Include images and video with your tips and have fully anonymous two-way dialogue and real-time chat with the receiving agency.
TipSubmit is a service offered by Public Engines, Inc. ©Public Engines, Inc. All Rights Reserved.  This application was developed for PublicEngines/CrimeReports by Anderson Software, LCC. Requirements: Compatible with iPhone, iPod touch, and iPad. Requires iOS 3.1 or later.  Demonstration URL http://post.ly/1U1QM and  http://youtu.be/R62jIy3wYn4
Board Chairman, Keith de Bellefeuille Percy stated "We are very excited about this new application. The ability to submit photos or videos is of particular interest to us.  Although you can initiate 2 way chat; you can, of course, continue to maintain your anonymity if you fear retribution.  This will connect us with the community in a whole new way!"
For more information contact:
Lucia Harper
Marketing and Communications Chair
National Capital Area Crime Stoppers
613-853-3345
Lucia.harper@crimestoppers.ca