The Ottawa Police Service Robbery Unit and Crime Stoppers are seeking the public's assistance with the identity of the suspect responsible in a December pharmacy robbery.
On December 10, 2015, at approximately 7:00 pm, just before closing, a lone male suspect entered a pharmacy situated along the 1000 block of Pleasant Park Road. The suspect produced a knife and made a demand for specific prescription drugs, including Fentanyl. The suspect obtained an undisclosed quantity of the sought after drugs and fled to a waiting vehicle. There may have been two other males sitting in the vehicle. There were no injuries.
The Robbery Unit is seeking to identify the suspect responsible for the robbery. He is described as being a black male, 5'10" (178cm), and medium build. At the time he was wearing a scarf over his face, a dark jacket, jeans, white gloves and carried a bag (images attached.)
In addition, the Robbery Unit is seeking to identify a person of interest who was in the premises preceding the robbery. He is described as a black male, early to mid 20's, medium build, black hair. He wore a comb in his hair, a black long sleeved shirt underneath a black puffy vest with a red design over the left breast, dark pants.(image attached)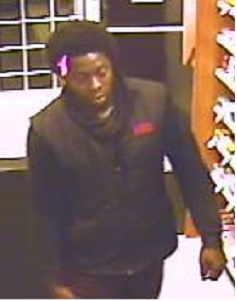 The vehicle is described as being a silver Honda Accord, 2 doors, that, at the time, had a broken driver's side window covered with plastic.
Anyone with information with respect to this robbery, or any other robbery, is asked to contact the Ottawa Police Robbery Unit at 613-236-1222 ext. 5116.
Anonymous tips can be submitted by calling Crime Stoppers toll-free at 1-800-222-8477 (TIPS). Remember Crime Stoppers does not subscribe to call display, we will not ask your name or record your call and you are not required to testify in court. If your information leads to their identity, you could qualify for a cash reward of $2000. You can follow us on Facebook, YouTube and Twitter.