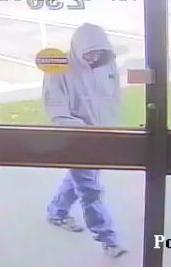 On October 22, 2012, at approximately 2:28 pm, a lone male entered a bank situated along the 200 block of Main Street. The suspect passed a note making a demand for cash.  The suspect fled with an undisclosed quantity of cash.  No weapon was seen and there were no injuries.
The suspect is described as being a Caucasian male, in his late 30′s/early 40′s, approximately 5'5″ (165 cm), slim build, reddish/blond beard, bad teeth, pock marked face, swollen lips.  He was wearing a gray hoodie, dark sunglasses, and jeans.  He had a strong odor of alcohol and cigarette smoke (see attached image.)
If you have information about the identity of the suspect, or any other criminal activity call Crime Stoppers at 613-233-TIPS (8477), toll free at 1-800-222-8477. You can also visit our website www.crimestoppers.ca. You can follow us on facebook, youtube and twitter. Remember Crime Stoppers does not subscribe to call display, we will not record your call and you are not required to testify in court. If your information leads to an arrest or a charge, you could qualify for a cash reward of up to $2000.