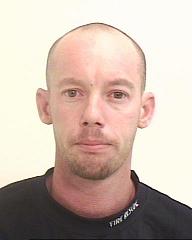 UPDATE: ARREST WARRANT ISSUED FOR
Jeff HICKEY, age 39 of Ottawa, has been charged with robbery and possession of weapons dangerous to the public.  An arrest warrant was issued on March 7, 2013 on these charges.
On August 11th 2012, two suspects committed robbery at a retail store located in the 300 block area of Moodie Drive.
One of the two suspect was armed with a handgun obtained cash from the retail premise. Police have arrested and charged Jessie LANDRIE aged 31 years from Arnprior.
If you have information about the whereabouts of the suspect, or any other criminal activity call Crime Stoppers at 613-233-TIPS (8477), toll free at 1-800-222-8477. You can follow us on facebook, youtube and twitter. Remember Crime Stoppers does not subscribe to call display, we will not record your call and you are not required to testify in court. If your information leads to an arrest or a charge, you could qualify for a cash reward of up to $2000.