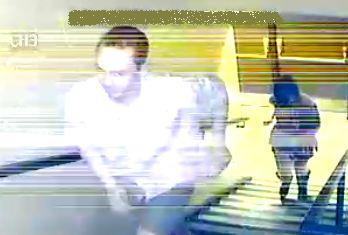 Crime Stoppers and the Ottawa Police Service are seeking your assistance in identifying a male and female responsible for breaking into a place of worship.
On Sunday, August 12, 2012, at approximately 01:00hrs two individuals entered the premise by forcing open a window at the Centre Reveil International church located at 1080 St. Pierre St. in Orleans.  Three guitars were stolen from within. Please review the attached photos that were extracted from their surveillance cameras.
The suspect description is; Wht male, early 20′s, 5'11, 180 lbs, short dark hair, wearing cargo shorts and a plaid shirt. Wht female, early 20′s, 5'5, 130 lbs, long brown hair, wearing a flowered summer dress and boots to the knee.
If you have information about the identity of the suspect, or any other criminal activity call Crime Stoppers at 613-233-TIPS (8477), toll free at 1-800-222-8477. You can also visit our website www.crimestoppers.ca. You can follow us on facebook, youtube and twitter. Remember Crime Stoppers does not subscribe to call display, we will not record your call and you are not required to testify in court. If your information leads to an arrest or a charge, you could qualify for a cash reward of up to $2000.