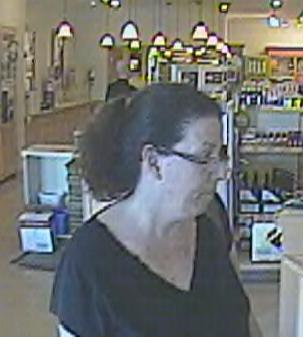 Crime Stoppers and the Ottawa Police Service are seeking your assistance in identifying a female responsible for a  theft.
On May 16th a lone female attended the LCBO located at 30 Earl Grey Drive in Kanata. The female suspect selected numerous bottles of alcohol and concealed them in her purse before fleeing the store.
The female is described as a w/f, 40-50yrs, 5'5″, 140lbs, dark brown hair in a pony tail, wearing glasses, dark shorts and a dark v-neck top.
If you have information about the identity of the suspect, or any other criminal activity call Crime Stoppers at 613-233-TIPS (8477), toll free at 1-800-222-8477. You can also visit our website www.crimestoppers.ca. You can follow us on facebook, youtube and twitter. Remember Crime Stoppers does not subscribe to call display, we will not record your call and you are not required to testify in court. If your information leads to an arrest or a charge, you could qualify for a cash reward of up to $2000.