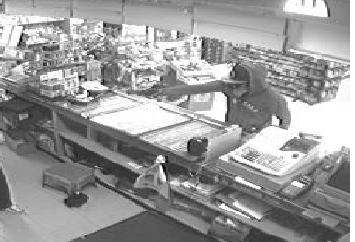 Crime Stoppers and the Ottawa Police Service are seeking your assistance in identifying a male armed with a hand gun responsible for a convenience store robbery.
On Saturday August 4th, 2012 at approximately 2:00am , a lone male suspect entered a convenience store located in the 1000 block of Pleasant Park Road with his face disguised and armed with a handgun. The suspect ordered a customer to the ground who was inside the store at the time then made a demand for money from the clerk. Please view attached photos.
Suspect desc; Black male, 6 feet tall, skinny build and wearing a bandana over his face, a dark hoodie sweatshirt and dark pants.
If you have information about the identity of the suspect, or any other criminal activity call Crime Stoppers at 613-233-TIPS (8477), toll free at 1-800-222-8477. You can also visit our website www.crimestoppers.ca. You can follow us on facebook, youtube and twitter. Remember Crime Stoppers does not subscribe to call display, we will not record your call and you are not required to testify in court. If your information leads to an arrest or a charge, you could qualify for a cash reward of up to $2000.