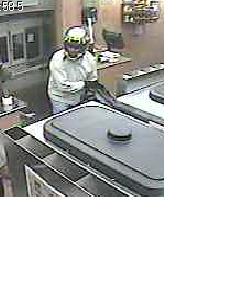 Crime Stoppers and the Ottawa Police Service are seeking your assistance in identifying a male wanted for robbery.
On July 28th at approximately 04:25 hrs a lone male attended the Tim Horton's located in the 1900 block of Walkley Rd and accosted an employee who was outside. Once inside, the suspect ordered the employees to the ground.  The suspect proceeded to empty the cash tray into a black garbage bag  and fled out the rear door.
Suspect description: white male, 30-40yrs old, wearing a black and yellow motorcycle helmet with letters JHC right on the front , white sneakers, beige colored long sleeve buttoned up shirt with a collar, light coloured pants, black gloves, dark black sunglasses, clean shaven. Suspect was wearing the motorcycle helmet during the entire incident.
If you have information about the identity of the suspect, or any other criminal activity call Crime Stoppers at 613-233-TIPS (8477), toll free at 1-800-222-8477. You can also visit our website www.crimestoppers.ca. You can follow us on facebook, youtube and twitter. Remember Crime Stoppers does not subscribe to call display, we will not record your call and you are not required to testify in court. If your information leads to an arrest or a charge, you could qualify for a cash reward of up to $2000.