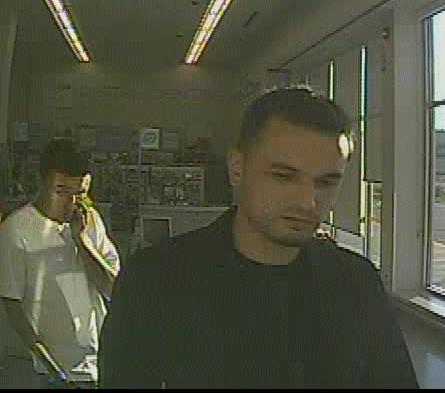 Crime Stoppers and the Ottawa Police Service are seeking your assistance in identifying two males involved in the theft of merchancdise at a pharmacy.
On June 23 2012, two male suspects entered a pharmacy located in the 2000 block of Carling Avenue and selected a large quantity of razor blades, shaving gel and teeth whitening strips. They exited the store, each carrying the merchandise in a dark re-usable bag, without making any attempt to pay.
The suspects are described as; Male #1: white male, 20-22 years old, 5'10″, med build, wearing  a dark sport coat with a dark shirt underneath, blue jeans and white casual shoes. He was carrying a dark colored shopping bag. Male#2: White male, 20-22 years old, also 5'10″,  med build, wearing a white V-neck tshirt, camoflage style cargo shorts and black ankle high skate board style shoes with a white sole.
If you have information about the identity of the suspects, or any other criminal activity call Crime Stoppers at 613-233-TIPS (8477), toll free at 1-800-222-8477. You can also visit our website www.crimestoppers.ca. You can follow us on facebook, youtube and twitter. Remember Crime Stoppers does not subscribe to call display, we will not record your call and you are not required to testify in court. If your information leads to an arrest or a charge, you could qualify for a cash reward of up to $2000.