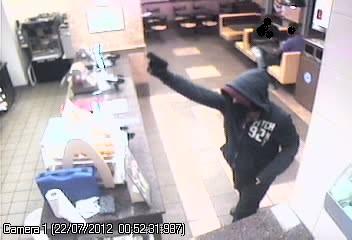 The Ottawa Police Service is seeking the public's assistance in identifying a robbery suspect.
On July 22, 2012 at approximately 1:00 am, a lone suspect entered a fast food restaurant situated along the 300 block of Fallowfield Road in Barrhaven. The suspect produced a handgun and ushered staff and customers into one area. The suspect obtained an undisclosed quantity of cash and fled the restaurant on foot. There were no injuries.
The suspect is described as being a male, mid to late 20′s, approx. 5′-10″(1.78 m). 180 lbs (82 kg), wearing a fake black beard, pink sunglasses, a navy blue hoodie with red trim around the hood with a logo, black jeans, and black shoes (See attached image.)
If you have information about the identity of the suspect, or any other criminal activity call Crime Stoppers at 613-233-TIPS (8477), toll free at 1-800-222-8477. You can also visit our website www.crimestoppers.ca. You can follow us on facebook, youtube and twitter. Remember Crime Stoppers does not subscribe to call display, we will not record your call and you are not required to testify in court. If your information leads to an arrest or a charge, you could qualify for a cash reward of up to $2000.