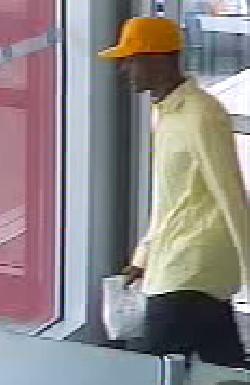 On Wednesday the 25th of August 2010 at 11:27 AM  a suspect committed a robbery at a Drug Store on Innes Rd, Ottawa. The suspect made off with a large quantity of narcotics.     
Suspect:   black male, 6'0″,facial hair, English with a slight French accent. He was wearing a bright yellow-orange ball cap, yellow dress shirt (untucked) and pants.  
Weapon:      being shiny, silver in color with a black plated handle.
If you have any information regarding this robbery or any other criminal activity call Crime Stoppers at 613-233-TIPS (8477), toll free at 1-800-222-8477. You can also visit our website www.crimestoppers.ca. You can follow us on facebook, youtube and twitter. Remember Crime Stoppers does not subscribe to call display, we will not record your call and you are not required to testify in court. If your information leads to an arrest or a charge, you could qualify for a cash reward of up to $2000.